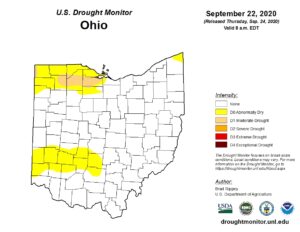 One major factor that is driving our grain markets is weather conditions. Too much rain, like the 2019 growing season can hamper plant growth. Conversely, drought conditions can be just as catastrophic. 
Ohio saw little change this past week. However, parts of central Ohio that were removed the previous week were added back into the abnormally dry category (yellow).  Our immediate footprint is still abnormal dry (yellow) to moderate drought (tan).
The impact at D0 (yellow) includes: 
Crop growth is stunted

Stock pond levels decline
The impact at D1 (tan) includes:
Hay yield is low; which will make it more expensive; corn is curling; farmers feed hay early; fruit (cherries and plums) yield is low
Small brush fires occur; burn bans begin
Voluntary water restrictions are requested
Fewer mosquitoes are observed than normal
Drought is hard on landscaping businesses
The impact at D2 (orange) includes: 
Crops are suffering 

The number of wildfires is high

Trees lose leaves early 

Soil is dry, cracked, and pulling away from foundations

Creeks are dried up
The impact at D3 (red) includes: 
Soybeans are severely dry, crop yields are minimal, supplemental hay for livestock increases, livestock are stressed

Lawns go dormant 
The impact at D4 (maruine) includes: 
Ohio has had a little or no experience in D4 so no impacts have been recorded at that level in the drought impact reporter
This week more of Indiana was added to the moderate drought (tan). Northern Indiana is experiencing moderate abnormally dry to moderate drought conditions. 
The majority of western part of the country is experiencing anywhere from abnormally dry to extreme drought conditions.  A few areas in Nevada, Utah and Colorado are even seeing Exceptional drought conditions.
This growing season we will be monitoring the weather conditions and keeping you up-to-date on this weather pattern and any other upcoming conditions that may occur. If you have any questions on how this weather may affect our local decision making, please contact our grain department.
More information about the drought monitor: 
https://droughtmonitor.unl.edu