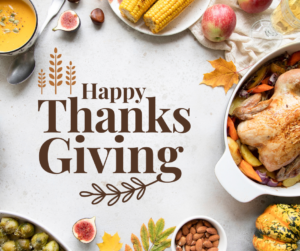 Every year on the fourth Thursday of November people gather around the table with their families and friends to celebrate, be thankful and eat food. However, many do not realize that Thanksgiving started to celebrate the harvest and other blessings of the past year. The first Thanksgiving was celebrated in October of 1621 after the pilgrims had their first harvest. 
While the first harvest may seem like it took place so long ago, Thanksgiving traditions would not be possible without a successful harvest each year. The average U.S. farmer feeds 155 people throughout the year and their accomplishments need to be celebrated at Thanksgiving.
American farmers work year round to produce food to feed the world. A  large percentage of that food is consumed on Thanksgiving. Here is how many pounds of food will be consumed on Thanksgiving this year:
675 million pounds of turkey.

50 million pounds of sweet potatoes.

214 million pounds of potatoes.

483,000 pounds pumpkin.

80 million pounds of pecans. 

77 million pounds of ham.
The American farmer plays a vital role in Thanksgiving day meals. Without the farmers' hard work and dedication Americans would not be able to enjoy their traditional thanksgiving meal.  This year when you are going around the table discussing what you are thankful for don't forget to thank the American Farmer. 
Sources:
https://www.republicworld.com/lifestyle/festivals/how-many-turkeys-are-eaten-on-thanksgiving-day-see-details-here.html
https://www.ers.usda.gov/newsroom/trending-topics/turkey-sector-background-statistics/
https://www.bobvila.com/slideshow/here-s-how-much-of-each-popular-thanksgiving-food-gets-consumed-each-year-52445
https://extension.psu.edu/pumpkin-production
https://news.oceanspray.com/2017-09-30-cranberry-sauce-stats