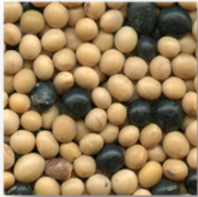 Soybean coats can vary in color based on the genetics of the seed, the environment they are produced or through infections by diseased organisms. The presence of colored seed coats is not uncommon and the U.S. Federal and Grain Inspection Service includes a measure of seed coat color in its soybean grading standards.   U.S. #2 yellow soybeans are allowed up to 2% of Soybeans of Other Color. Soybeans of Other Color (SBOC) is not a class of soybeans. Simply stated, SBOC includes soybeans that have green, black, brown or bicolored seed coats.
SBOC is nothing new. However, in the last few years (3-5) we have seen an increase in SBOC, mainly in the smokey gray type of coloration. When dissected, the inside of the bean is a quality yellow soybean. This is an issue with the hull only. The higher occurrence SBOC is coming from Enlist E3 varieties.
Click here to find out more about Enlist E3 varieties and Soybeans of Other Color.