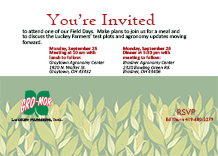 Luckey Farmers is pleased to host our annual seed test plot Field Day on Monday, September 26, 2016! Our agronomists, seed managers and salesmen will be discussing how different hybrids and varieties are performing this year. We will offer both a morning and an evening meeting and this Field Day will be virtual. Attendees will walk through the plots by viewing images captured by the Luckey Farmers Drone.
You can choose to attend either one of the two times detailed below.
September 26, at 10 am—Graytown Agronomy Center, 1881 N. Walker St., Graytown, OH. Lunch will be provided.
September 26, at 5:30 pm – Bradner Agronomy Center, 2320 Bowing Green Rd., Bradner, OH. Dinner will be provided.
RSVP to Ed Thurn at 419-680-2279.