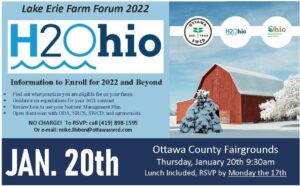 With the 2022 growing season right around the corner it is time to start thinking about the H2Ohio enrollment program. The H2Ohio program was designed to be a  data-driven water quality plan to reduce harmful algal blooms, improve wastewater infrastructure, and prevent lead contamination. 
In order to enroll in the program farmers are required to submit a Voluntary Nutrient Management Plan (VNMP) at the time of application. Enrollment is open until January 15, 2022, and no practices can be started prior to March 15, 2022.
To learn more about H2Ohio be sure to attend the Lake Erie Farm Forum 2022, at the Ottawa County Fairgrounds, Thursday, January 20, at 9:30 am. The meeting will offer open discussions with the ODA, NRCS, SWC, and agronomists. Two of Luckey Farmers agronomists, Ashley Schulz and Brice Gahler, will be there to discuss plans with growers, give guidance and answer any questions you may have. 
The meeting will cover:
Finding out what practices are eligible on your farms. 

Giving you guidance on expectations for your 2021 contract.

Review how to use your Nutrient Management plan. 
This is a free event and lunch will be included. You must RSVP by Monday, January 17. 
RSVP: call (419) 898-1595 or email mike.libben@ottawawcd.com
Where: Ottawa County Fairgrounds 
Address: 7870 OH-163 Scenic, Oak Harbor, OH 43449
When: Thursday, January 20
Time: 9:30 am