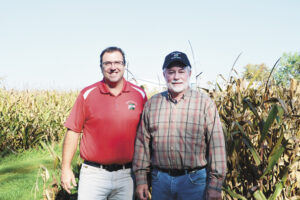 Luckey Farmers seed and precision specialist Doug Uher and producer Galen Koepke were recently featured in Ohio Country Journal. In the article titled, "It takes many steps to find the right rate," Uher and Koepke discuss the challenges of farming on the banks of the Portage River and how they work together as 4R Nutrient Stewards.
The 4R Nutrient Stewardship Certification Program encourages agricultural retailers, service providers and other certified professionals to adopt proven best practices through the 4R, which refers to using the Right Source of Nutrition at the RIght Rate and Right Time in the Right Place. Luckey Farmers has three certified agronomy facilities within our footprint; Berkey, Graytown and Bradner.
Click here to read the article featuring Uher and Kopeke (please note – you will be redirected to the Ohio Country Journal website).