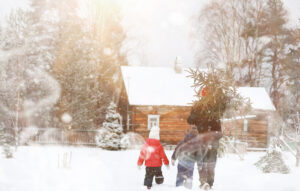 When you think about what it means to look like Christmas, you probably think about Christmas trees, wreaths, garland, presents, lights, and families gathering around the table to enjoy a meal. However, have you ever stopped to think what Christmas would look like without farmers?
Christmas Tree production is a part of the agriculture sector. There are currently more than 10,000 Christmas Tree farms in the United States that employee over 100,000 people either full or part-time. Ohio ranks 10th in Christmas Tree production and 9th in Christmas Tree farming jobs. 
Christmas Tree farms also supply other Christmas decorations including wreaths, grave blankets, and other festive decorations. In addition to decorations, Tree farms also had a special family tradition for many families. Many people go and cut down trees as a family and spend time together picking out their perfect family tree. 
While Christmas Trees represent tradition and a visual part of the holiday, the food at your table is also produced by farmers and ranchers. 
The livestock producers have to care for the animals that provide Christmas favorites including ham, chicken, turkey and prime rib. Produce farmers also provide the corn, green beans, cranberries and a wide variety of other fruits and vegetables. 
Without farmers our Christmases would not be full of trees, pine, and wonderful meals, so don't forget to thank a farmer this Christmas.