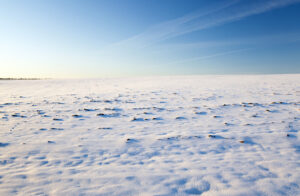 This week our footprint witnessed the third largest snowstorm to ever hit our area. The total snowfall at Toledo Express was 14.5". The largest snowfall ever recorded was 20.2" on March 1, 1900. This much snow may not be common in our area, but when we do get it, it can become very beneficial to the soil and dormant crops. 
Here are some of the advantages of snow on your fields:
Insulates dormant crops like wheat. A layer of snow insulates the crop helping to avoid "winter kill" during bitter cold temperatures.

Snowflakes can contain trace amounts of nitrogen from the atmosphere that will help fertilize the next crop. 

The snow on top of a field helps to preserve the moisture already in the ground.

Once the snow begins to melt it will also help to put moisture back into the ground. There is approximately one inch of water for every 10 inches of snow. This can vary with different wetness and thickness of snow. 

Snow also 

No-till farming can also help eliminate drifting trapping snow on the field for more water distribution as the snow melts.
This year's snowstorm can prove to be very beneficial for the wheat in the ground, and it will help prepare our soils for the next growing season. 
Sources:
https://garden.org/ideas/view/goldfinch4/230/The-Benefits-and-Drawbacks-of-Snow-in-the-Garden/#:~:text=It%20protects%20plants%20from%20the,them%20out%20of%20the%20ground.&text=When%20the%20snow%20melts%2C%20these,it%20melts%20in%20the%20spring
https://dekalbcountyonline.com/what-effect-does-snow-have-on-farming/#:~:text=Snow%20PROVIDES%20SOIL%20MOISTURE%20crops,trap%20snow%20and%20REDUCES%20DRIFTING.&text=This%20is%20true%20for%20snow,surface%20temperature%20is%20about%2030%C2%BAF.
https://www.canr.msu.edu/news/snow_a_welcome_sight_for_farmers#:~:text=In%20its%20frozen%20physical%20state,30%20to%2035%20degrees%20Fahrenheit.